What is Custom Metal Stamping? 
Metal stamping is when you place a flat sheet of metal into a press and apply pressure. This sheet gets converted into a three-dimensional shape of your choice. We use a tool and a die for this. It probably sounds incredibly simple, but metal stamping is a very intricate process.
Fortunately, you don't have to worry about all of that. Our team can handle everything for you. Over the years, we have honed our metal stamping process to deliver products of the highest quality.
You can share the details of your project, and we will take care of the rest. Our team manages all aspects of the metal stamping process. That includes tooling design, fabrication, stamping, assembling parts, and more.
Why Choose Rickotek for Your Custom Metal Stampings?
When you come to Rickotek, you are coming to a professional metal stamping expert. We have specialized in metal stamping for almost 20 years, serving customers from around the world. Our skilled design engineers and tooling technicians are professional and dedicated to their jobs.
What's our secret to success? The answer lies in two words: specifications and quality assurance. Every project is unique to us. Your vision fuels it, and we take it upon ourselves to bring that vision to life. To do this, we try and understand every little detail of your project.
Once we know what you have in mind, we work towards production. There are multiple checkpoints spread throughout this process. That allows us to make sure that the final product meets your requirements perfectly.
Currently, our team specializes in the following areas of custom metal stamping services:
Low and High volume Progressive stamping

Low volume Secondary stamping

In Die Tapping

Secondary / Assembly tapping

Forming and Machining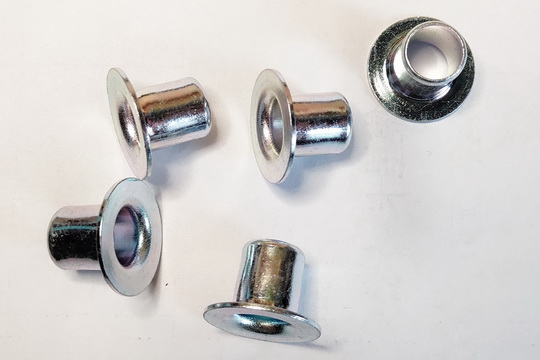 Adding More Value to Your project 
If you are looking to improve the quality of your custom metal stamping parts and want something with a longer shelf-life, then we also offer the following services:
| | | | |
| --- | --- | --- | --- |
| 1. Black Oxide finish | 2. Heat Treating | 3. Deburring | 4. Magnetic Particle Inspection |
| 5. Passivation | 6. Dry Film Coating | 7. Powder Coating | 8. Laser Marking |
| 9. Bright Anneal | 10. Plating | 11. Burnishing | 12. Electro-Chemical Etching |
These value-added features will make your product resistant to abrasion, corrosion, and rust. They can also remove discontinuities beneath the surface and make it smooth and uniform. You can also get bar codes or text engraved upon the metal parts for tracking and recording purposes.
Customize It With RICKOTEK
Are you interested in using our services for your next custom metal stamping project? Click here to get in touch with our team or request a quote.